10 Things To Check When Comparing DUI Lawyers
When facing a DUI, this is not the time to make hasty decisions about hiring a lawyer. DUI charges are serious and can result in long-term detrimental consequences. Suffice to say, you need a good lawyer to come to your defense. But, how do you find one?
To make sure you hire the best DUI attorney for your situation, you need to ask some thorough questions of all lawyers you interview:
Practice Area
Make sure you hire an attorney who has experience—and better yet focused legal experience—in handling DUIs and even DUI cases regarding injury, if that's what you're facing.
Geography
Choose a DUI lawyer who is in your jurisdiction. You will want to work with someone close by who can give you the time you need for meetings and courtroom appearances. And, your attorney should be completely familiar with the DUI laws in the area you were arrested in.
Settlements and Verdicts
Find out everything you can about the criminal attorney's success rate by searching court records and asking directly about case history.
Search News Articles
See if the attorney you're considering has been in any news articles or has published articles online. You might inquire about papers and books your potential lawyer has written.
Check Legal Associations
Your DUI lawyer should be active in at least one legal association. Check local  and regional associations for membership, as well as any leadership roles.
Ask About Legal Presentations
Question your potential attorney about any talks given on the subject of DUIs. This will display his authority in the area; plus, it's great to have an attorney with a strong, positive reputation.
Is Your Attorney in Good Standing
All practicing attorneys should be in good standing with their state bar associations and with national bar associations. You can check online ratings too in order to find out about the ethics of any lawyers you're considering.
Does the Attorney Have a Website
In today's technology-driven age, any service provider who is serious about providing quality for a client will have a website. View the attorney's site to get a feel for client involvement, specialty area, communication skills, and client support.
Attorneys Who Spread Themselves too Thin
Public defenders and lawyers who take on any case, in any area, are not the lawyers you want defending you on a critical DUI case. Hire someone who has the time to devote to your unique situation.
Client Recommendations
If you see too many self-proclaimed endorsements from an attorney, be on guard. A good lawyer will have many clients who speak out about the law office's success. The right lawyer for your DUI charge won't need to constantly self-direct praise with terms like "Leading," "Number One" and the like.
As a bonus, ask potential DUI lawyers to be up front with you about consultation fees, flat fees or hourly rates, processes, procedures and DMV settlement involvement. Good luck finding your DUI attorney!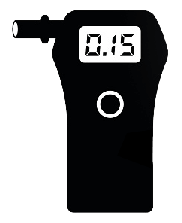 Get that Breathalyzer you've always wanted.
Sign up today for weekly tip and tricks for drinking smart. Get a full PDF Copy of our BAC Chart.