15 Most Consumed Liquors on Earth
People love drinking. They love to drink with friends and family at parties, at weddings, or simply when they want to sit back and relax at home. You'll often come across celebrities and other rich figures in the media portrayed with a bottle of beer or a glass of wine in their hand. Many of these are high priced and sophisticated drinks, but you'll also be able to find other relatively cheap counterparts on the market as well. Here is a list of some of the most highly consumed liquors on earth, based on their global sales volume.
#1 Jinro
No doubt, is the number one best-selling liquor in the world. Jinro soju, which is owned by Hite-Jinro, sold 65.3 million cases worldwide in just one year. The clear spirit is made of rice and tastes sweet and light. It is also incredibly cheap, which makes it one of the most popular liquors on earth.
#2 Emperador
is at number two, which has sold over 30 million cases in one year. Owned by the Alliance Global Group, Emperador is a type of brandy which has a record of selling more than twice when compared to other well-known brands of liquor. The brand has consistently shown excellent quality since 2004, and received the Readers' Digest Trusted Brand Award.
#3 Smirnoff
has sold approximately 25.8 million cases worldwide in a year. Owned by Diageo, Smirnoff vodka is the largest vodka brand in the world. The alcohol quickly spread throughout the world after it was created by Pyotr Arsenievich Smirnov in 1864. The sales of the brand doubled in the 1940s after the invention of the Moscow Mule cocktail. Ever since it has been used as a component of Bond's signature drink in the very first James Bond film in 1963, it became one of the most iconic alcohol brands in the world.
#4 Lotte Liquor
by Lotte Liquor BG is at number four. It is a type of soju, a South Korean spirit, which has consistently been rated as the world's best-selling spirit. Lotte liquor sold a total of 25.4 million cases in a year.
#5 Ginebra san Miguel
is ranked at number five, which sold 23.8 million cases worldwide in a year. The brand of gin was introduced in 1834.
#6 Bacardi
is a brand of rum which ranks at number six among the most consumed liquors of the world. Last year, it sold around 20 million cases worldwide.
#7 Tanduay
is Asian rum which set a sales record of selling 19.6 million cases worldwide in a year. Made from Philippine grown sugar cane, Tanduay comes in two main varieties, Gold and Silver.
#8 McDowell's No. 1
ranks at number eight among the most popular liquors on earth. Developed by United Spirits, the brand sold 19.5 million cases in 2013.
#9 Johnnie Walker
sold almost 19 million cases a year. The liquor comes in several different distinctive labels, including red, black and gold.
#10 Pirassununga 51
owned by the Companhia Müller de Bebidas, is the most popular alcoholic beverage in Brazil. The mysteriously-named liquor sold 18.5 million cases worldwide in 2013.
The rest – Other top selling liquors in the world include Smirnoff, Hennessy, Jack Daniel's, Absolut and Captain Morgan to name a few.
Author Bio:
We offer a diverse range of legal services with special focus on criminal defense, family law, personal injury and civil litigation.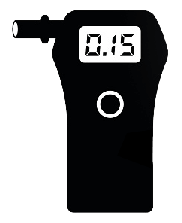 Get that Breathalyzer you've always wanted.
Sign up today for weekly tip and tricks for drinking smart. Get a full PDF Copy of our BAC Chart.