2016 DUI Statistics in the United States
A recent United States government report, based on data obtained from a survey of drivers aged 16 and up, states that only 11% of people polled admitted to driving drunk. This number dropped from 15% just 12 years earlier. But, it doesn't mention the fact that the National Highway Traffic Safety Administration (NHTSA) says there was an increase of traffic deaths by 7.2% in the U.S. in 2015; nor does it mention that in 2016, an average of 28 people per day were killed in DUI accidents, according to a December 2016 CBS News story.
What the Statistics Mean
Drivers and passengers remain at risk because millions of Americans continue to drive under the influence of alcohol. One person is killed in a DUI every 53 minutes in the U.S., and your chance of being in an alcohol-related crash is one in 3 over the course of your lifetime. Deaths and damages from alcohol-related car accidents add up to $52 billion each year.
Distracted Driving is as Bad as Drunk Driving
The Texas Department of Public Safety reported in November 2016 that at least one person had been killed on a road in Texas every day for each of the previous 16 years. Many of these motor vehicle accidents involved either drunk driving or texting and driving –distracted driving. In Texas, since 2000, 55,578 residents have died as a result of traffic accidents. That's an average of roughly 10 people per day! Texting while driving played a role in these deaths, as drivers do things like read or type messages on their small cell phones and even read their Kindles while driving.
Safety Precautions That Can Save Your Life
Hopefully, people are becoming more aware of the dangers of drunk driving and distracted driving. As the message of safe driving continues to spread, here are some points to keep in mind:
Don't drive after drinking. Period. Driving under the influence impairs your reaction time, coordination, vision and judgment. Drinking alone hinders your judgment, so if you're going to drink, make arrangements for your ride home ahead of time.
Buckle Up. Each time you drive, buckle your seatbelt. You never know when an accident can happen, either because of your mistake, your driver's mishap, or someone else's poor decision.
Put Your Phone Down. Don't read, text, look at pictures or do anything else on your phone while driving. Don't select music while behind the wheel. Prepare your phone, including your map, before you start driving. If you must alter something on your phone, pull over to do it.
Slow Down in Construction Areas. Unfortunately, construction workers frequently face injury or death due to the bad driving of others. They are hit, run down, or seriously jeopardized when people behind the wheel don't operate their vehicles properly and responsibly.
It's time for everyone to learn that reckless and unsafe actions can have dire consequences. Whenever you get behind the wheel of a car, or when you're a passenger in a car, think about every detail of the drive ahead and act with caution and concern for road and human safety.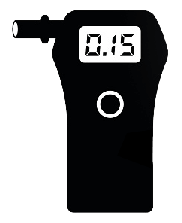 Get that Breathalyzer you've always wanted.
Sign up today for weekly tip and tricks for drinking smart. Get a full PDF Copy of our BAC Chart.