4 Recipes That Are Guaranteed to Cure Your Hangover
So you might have had one too many margaritas last night. It happens to the best of us. One drink turns into two, and before you know it, you wake up the next morning with a head full of pain, nausea and the sensation of getting hit by a tractor-trailer speeding at 75 MPH. You lay in bed and swear off alcohol for good.
Ok, maybe not for good. But you rethink last night's drinking decisions and begin to plan a quick road to recovery to get you back on your feet.
Crawling out of bed the morning after a hangover can be brutal. Whether you partied like it was your birthday for the third time this year or took your first swig of alcohol the night before, the effects of a hangover affect drinkers all the same.
Need a quick fix to ward off the dreaded feeling of a morning hangover? Fix up one of our simple and nutritious recipes below to get you back on your feet!
Spinach and Egg Sandwich

You might not feel the effects of drinking throughout the night, but you certainly will feel the crash when you wake up the next morning. Amongst the long list of symptoms, fatigue, weakness and decreased levels of energy may give you the most trouble. How can you pull yourself together when you don't have the strength to do so?Leafy greens and dairy products such as spinach and eggs are excellent sources of vitamin A — a nutrient you may lack after a night full of drinking. Vitamin A deficiencies can result in a variety of unwanted symptoms, including fatigue and general tiredness. A spinach and egg sandwich will fuel your body with a surge of protein, too.

2. Sweet Potato, Beans and Avocado Wrap

Who doesn't like a good wrap to pull themselves out of bed in the morning? A dash of sweet potatoes doesn't hurt, either.

Sweet potatoes are an exceptional source of Vitamin A and fiber, which provide you with the nourishment necessary to fight back against unwanted hangover symptoms such as fatigue and cramping. Avocados and beans offer you additional vitamins and minerals to replenish any essential nutrients you lost the night before.

3. Trail Mix

When your morning cravings begin to hit, opt for a sweet and salty snack that soothes your hunger while helping you get a much-needed sense of nourishment after a night of drinking.

The secret to trail mix's curative properties lie within the nutritional value of nuts. Nuts supply a healthy serving of fats and protein that your body needs to recover after losing valuable nutrients. If you wake up with a dry mouth, the added salt will coax you to drink more so you can remain hydrated and nourished throughout the morning, too.

Remember that foods typically misconceived as light and nutritious are not always magnificent for your diet, especially after a hangover. While nuts usually fall within the realm of nutritional snacks, not every "healthy" food will help your body after a hangover in the same way.

Banana and Greens Smoothie

You might not feel like going all out in the kitchen when you barely have enough energy to turn off your alarm. When you're feeling short on power yet you need a burst of nutrition, opt for a smoothie to refuel your body with ease.The diuretic effect of alcohol means your memory may not be the only thing you lost the night before. Drinking depletes valuable nutrients your body needs to recover. A healthy heaping of potassium-rich bananas and vitamin-filled leafy greens is all you need to get back on your toes.

Hangovers are never a fun time, but that doesn't mean you can't take a less-than-ideal situation and turn it into a manageable experience. A healthy heaping of a delicious entrée or smoothie is all it takes to get your body up and ready for your next night of adventures.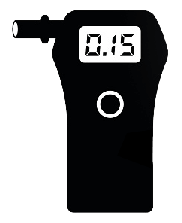 Get that Breathalyzer you've always wanted.
Sign up today for weekly tip and tricks for drinking smart. Get a full PDF Copy of our BAC Chart.