5 Healthy Mocktails To Try Out This Summer
When it's hot outside, sometimes all you can think about is getting your hands on a cool, refreshing drink. That could mean a soda or iced water, but for some people, it means alcohol. What do you do when you want the familiar taste of an evening cocktail when you are determined to give up alcohol? The internet has a solution for you.
People are beginning to get into the idea of mocktails, or cocktails without the alcohol. They can be made frozen, hot and even with cream-based recipes. Basically anything you used to like to drink (or wanted to try and never could) can be made into a mocktail if you think outside the box a bit.
Before we share these amazing recipes with you, remember that giving up alcohol or choosing to be sober for while doesn't make you weak or boring. In fact, it's actually a great option for your mental and physical health during the summer.
Labor Day Drinks
You know you're going to be invited to some social event on Labor Day, and you're probably already dreading the pressure of having to be around people who are drinking. Fool them with the perfect Labor Day drink. If you have some tea and lemon juice, you'll be able to make this drink. It's best enjoyed on a nice porch overlooking a sunset.
Watermelon Slushie
This is probably the easiest (and most refreshing) mocktail you could possibly make. You need minimal ingredients and prep time, too for this Watermelon Slushie Mocktail. In addition to being a chilled out treat for you and the family, this slushie provides health benefits from watermelon and cranberry goodness combined. All you need is a blender, some ice, and maybe some mint to top off this refreshing non-alcoholic, treat.
Iced Cherry Bomb
Hello, world! Cherry mocktails are coming into style. If you fall into the group of people who like a drink that's mostly sweet with just a bit of bite, this recipe is for you. The Cherry Bomb mocktail will have you tasting the sweeter side of life in no time, and you'll feel extra fancy if you pour it over an ice ball in a low glass.
Asian Pear Sparkler
For those sad souls who suffer through summer by counting the days until fall comes, there's a mocktail recipe that perfectly blends fall tastes with a summer look. This sparkling, yellow drink has warm autumn flavors with a summer twist. It's the perfect undercover drink to have a party where everyone is gushing about their summer plans while all you can think about is sweaters and orange leaves.
Coconut Lavender Lemonade
How many of your friends will be drinking a beautiful, purple drink this summer? They'll be dying to try the coconut lavender lemonade you'll hold in your hand, and it'll taste so syrupy sweet that they won't even notice that it's 100% alcohol free.
No matter what drink you'd like to enjoy on your cool, summer evenings, there will be a way to incorporate it into a delicious mocktail. You won't ever have to feel like the awkward friend at the neighborhood barbeque again. Go ahead, enjoy a drink with your friends. No one has to that it doesn't actually have any alcohol in it.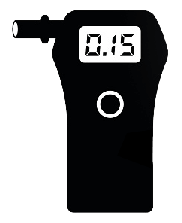 Get that Breathalyzer you've always wanted.
Sign up today for weekly tip and tricks for drinking smart. Get a full PDF Copy of our BAC Chart.