The Average Cost of a DUI in the United States
A DUI comes with a heavy share of penalties. Not only is there jail time and the shame of being labeled an irresponsible drunk driver and a menace to citizens and society, a DUI comes with a hefty price tag too. Your first DUI can cost upwards of $20,000 or more, even without property or bodily damage. The Alaska Department of Motor Vehicles estimates that the total expense of an initial DUI or DWI arrest and conviction costs the equivalent of a taxi ride half-way around the world.
Financial penalties for DUI offenses were designed with the intention to deter drunk driving. According to the National Highway Traffic Safety Administration, 28 people die as a result of drunk driving crashes every day, and roughly one in three people will be involved in a drunk driving crash during their lifetimes.
A Myriad of Expenses
The expenses typically associated with a DUI conviction include bail, car towing or impound costs, court costs, legal fees, DUI education programs, higher insurance premiums, probation fees, drug and alcohol assessment and counseling, license reinstatement fees, and loss of work income.
In addition, many states also require the addition of expensive Ignition Interlock Devices to the driver's vehicle after a DUI conviction which has to be paid by the driver.
Being convicted of a DUI can also result in the loss of driving privileges, meaning that the individual will likely be spending money on alternate forms of transportation. This is followed by Drivers License reinstatement fees.
A DUI conviction can also result in the loss of a job, especially if the job involves operating a vehicle. Then of course, finding employment is also hampered while the conviction is on your permanent record.
Insurance companies can also exponentially increase car insurance, or they can refuse to cover you completely.
Average Expenses and Costs
Bail after arrest for a DUI can cost anywhere from $150 to $2500.
Towing and impound, depending on the distance the car has to be towed and the time it spends on the impound lot, can cost between $100 and $1200.
The increase in insurance premiums can cost between $4500 and $10,000.
A defense attorney can charge a client anywhere from $2500 to $5000.
Court fines can cost anywhere from $150 to $1800.
If you are sentenced for mandatory alcohol treatment or education, it can cost from $1000 to $2500.
Licensing fees are typically $150. If you are forced to buy and install an Ignition Interlock Device, it can cost from $500 to $1500.
Jail time and sentencing have the accumulated cost of $580.
Chemical Testing Fees typically cost $90.
Probation supervision costs can come to $600 to $1200.
The costs of alternate transportation can rack up to $100 to $1000.
Taking these costs in to account, a DUI in the United States, depending on what State you're in, and your previous criminal record, can rack up a cost of anywhere between$13000 and $27000.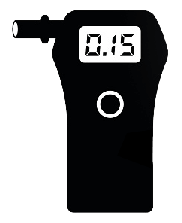 Get that Breathalyzer you've always wanted.
Sign up today for weekly tip and tricks for drinking smart. Get a full PDF Copy of our BAC Chart.