How Your BAC Can Cost You
How Your Auto Insurance Rates Are Affected By A DUI
In the current information age that we live in, the repercussions and dangers of drunk driving are widely known and discussed. However, so many people still drink and drive, and the individuals who do survive this with just a conviction from the authorities are still going to need to be able to get auto insurance in the future. However, insurance companies consider those drivers to pose a much higher risk, and higher risks are more expensive to insure. In this article we will be exploring how your auto insurance quotes are affected by having a prior conviction of driving while intoxicated, which is usually based on what your bac blood alcohol content was at the time.
How Much Your Car Insurance Rates Will Increase Following A DUI
So how much will auto insurance cost you following a DUI? In order to determine how a drunk driving conviction impacts insurance rates, we reviewed quotes for a driver living in Roselle, Illinois, Atlanta, Georgia and New York, New York before a DUI and after one as our sample. As our benchmark we chose a single 30-year-old man who drives a 2014 Toyota Corolla. New York City premiums are already very expensive. However, they increased by $1,098 on average after just one DUI conviction, according to our sample driver's experience.
Roselle, which is a small suburb of Chicago, is a random sample being used to explored the trend. Our findings were actually consistent between our cities. Although the rates in Roselle are less expensive compared to New York City, for our driver they increased by a similar percentage – 36% in New York and 44% in Roselle.
Our data from Atlanta showed a consistent increase as well of 31%, which shows that where you live can have a large impact on how hard hit your insurance rates are by a DUI conviction.
Other Factors That Have An Impact On Your Auto Insurance Rate Following A DUI
In our example, our model profile was a 30-year-old man driving a Toyota Corolla. However, there are also several other factors that can work to increase your rates when combined with driving under the influence and exceeding the legal (BAC) blood alcohol content level. We have shown already that the area where you live can have a major impact. However to identify even more factors, we took a look at the way car insurance rates are calculated by Geico. We used Utah as our benchmark.
Age: One major factor we discovered was age. For an 18-year old who had a DUI conviction 12 months prior, his premiums for Property Damage Insurance would be around 5% higher compared to a 30-year-old who had the same profile. For anybody under 19 years old, one DUI in a year will cost at least 5% for for someone who is older. When it comes to DUI charge, the youngest drivers see the biggest hit on their insurance rates.
Time: Another important factor is the amount of time that has passed since the DUI occurred. Usually insurance companies look at three or five years when it comes to judging your driving record and calculating your quote. For Geico, when it comes to DUI violation, clean driving for at least 35 months is required for your premiums to be not be affected. For example, all else being equal, an individual with a DUI four years ago would have an 18% less under-insured Motorist premium compared to a person who had a DUI conviction in the past 12 months.
Number of DUIs: The most important factor of all is how many DUIs a driver has had in three years. For example, the Bodily Injury premium for a 30-year-old individual with four DUIs will be around 58% more expensive compared to a person with just with one DUI. Geico shows that an 18-year-old living in Utah who has 4 or more DUIs over the past year would pay 116% more than a person of the same age who has a clean driving record.
Companies: Every insurance company has its own rules for how a drunk driving charge is handled. Our quote experiment showed that different insurance companies count DUIs much more heavily compared to others. The difference in rates for a person with a DUI compared to without a DUI was 47% higher with Nationwide, 33.9% higher with Allstate and 31.3% higher with State Farm according to our test.
Final Thoughts
There are many more reasons why a DUI is very troubling beyond your car insurance. However, it is a very expensive one. Depending on how much time has passed, how many convictions you have accrued, your age, and other risks that are associated with driving, your premiums could increase dramatically. If you compare rates you can find less expensive car insurance, however ultimately creating a new responsible driving record it really the only way to have your car insurance rates return to normal.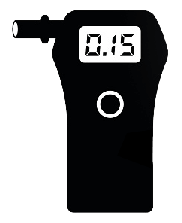 Get that Breathalyzer you've always wanted.
Sign up today for weekly tip and tricks for drinking smart. Get a full PDF Copy of our BAC Chart.