Beer Tasting in Portland – Stormbreaker Brewing
While I was in Portland for the weekend I decided to do some beer tasting. Having seen a few episodes of Portlandia I knew there were plenty of options. I decided to check out Stormbreaker Brewing on Mississippi Ave, which ended up being a great choice. Mississippi Ave is a really fun street in general, so before or after the brewery you will have plenty of fun places to walk to.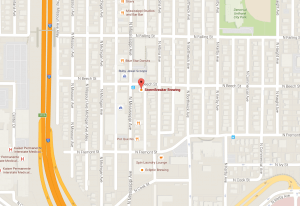 I started out with a flight of beers. They offer 2 pre-selected flights, with their all year drafts and seasonal drafts. I decided to customize my own and then some.
#1 – Opacus Oatmeal Stout – If you like dark malty beers you are going to like this one. It's got a nice chocolate coffee flavor that really goes down smoothly. It's very light and refreshing despite the dark color. At 5.0% ABV it's a good way to start a flight.
#2 – Handful of Hops IPA – Wow. Probably my favorite beer I had here. This IPA in my opinion was absolutely delicious. If you like extra citrus in your IPA's, without it tasting fruity you're going to love this beer. The 3 different hops they use, Simcoe/Citra/Mosaic really give the beer a nice bitter bite. Well done.
#3 – Savage Nimbus IIPA – I'm a big fan of double IPA's, not only as they are usually higher in ABV but they have very unique deep flavors. This IIPA has an ABV of 8% and has a strong hoppy flavor I couldn't quite piece together. It's a very complex IIPA and has this citrus hoppy spice to it that really put a spin in my mouth. So Portland.
#4 – Right as Rain Pale Ale – As a brewer, it must be tough to not want to deviate when making an ale. I think that was the goal here with Right as Rain, as they wanted to really nail a "Pale Ale." It's very drinkable and has a much smoother feel than the previous IPA's. With an ABV of 5.6% it's not going to send you to space.
#5 – Triple Double IPA – This is a big beer and at 8.5% ABV you will notice. I have to give my tip of the cap to StormBreaker Brewery for doing this many IPA's, after this beer I felt like I was in IPA heaven. I felt like my beard was cut too short for this beer. Back to the beer, it was great. Strong and ambitious with its use of citrus and hops for a flavor that overwhelms your senses for a few precious moments.
While they don't serve the Anniversary Barrel Aged Barleywine in the flight, I had to order one. I'm a huge fan of Barred Aged Barleywines, presuming it's a BBA. The aroma and taste of this drink really makes you appreciate the brewing craft. It's rich, real rich. At 10.1% ABV you better strap in for a fun afternoon because this thing will make you sing karaoke.
BTW – Portland, what's up with Depeche Mode? It's 2016 lets mix it up a little. Other than the 90's greatest hits, the service was absolutely great. Our server was very knowledgeable about their beer and what we might like. We didn't order any food other than some spiced peanuts which were good. If you are from out of town and want a great experience, I wouldn't hesitate to recommend StormBreaker on Mississippi Ave.
Never drink and drive, click here to calculate your BAC.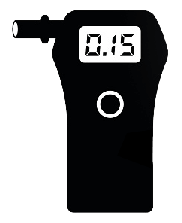 Get that Breathalyzer you've always wanted.
Sign up today for weekly tip and tricks for drinking smart. Get a full PDF Copy of our BAC Chart.