Breathalyzer Groom Gift Ideas
When giving someone a gift, a great idea is to think about that persons habits and hobbies, and get him or her a gift that he or she will get most use and enjoyment out of.
When considering buying a drinker gifts. most people jump right to business and buy the obvious gift, alcohol. Maybe you can buy them an expensive scotch or a case of their favorite craft beer.
But there are new items on the market these days, other than alcohol, that would still make a great gift for your drinking buddy such as a breathalyzer. Not only is it a great gift, it could also keep your friend out of trouble, out of jail and maybe even save his or her life.
Personal Breathalyzer
Personal Breathalyzers have hit the market in a big way, with many options to choose from. They come in a variety of sizes, battery sizes, accuracies and prices.
The point of the personal breathalyzer is to find out your own blood alcohol concentration level. You simply breathe into the mouthpiece and the breathalyzer tells you your BAC. If the BAC is more than 0.08 %, then it is illegal for you to drive in most of the United States, and you should call a cab or walk.
Consuming alcohol prior to driving greatly increases the risk of car accidents, highway injuries, and vehicular deaths. The greater the amount of alcohol consumed, the more likely a person is to be involved in an accident. This is why a personal breathalyzer is a great gift for anyone you know who enjoys drinking. You never know when it might save his or her life or keep him or her out of trouble with the law.
What kind of breathalyzers are better?
A good personal breathalyzer is portable because it needs to be carried into parties and bars, has a reliable battery and has good accuracy. A breathalyzer with bad accuracy can be a problem because it can tell you that you are not legally drunk, when you in fact, are. This can land you in a lot of trouble.
What are the best breathalyzers to buy as gifts?
The BACtrack S80 is one of the most advanced breathalyzers on the market. With a precision BAC range of 0.000 to 0.004, this unit is more than capable of letting you know whether you're legally capable of driving and when you should potentially check in at the nearest hospital.
The BACtrack Mobile is the breathalyzer for app and wearable enthusiasts. The Bluetooth-enabled device allows you to connect most Android and iOS devices, including the Apple Watch. Once connected, you can utilize the free BACtrack app, which lets you store a digital drinking log or hail an Uber if you've quaffed a bit too much on a particular evening. The next time you're at the watering hole, you can even refer to the app to remember whether you liked a specific libation.
A breathalyzer that you can store on your keychain is about as sensible and convenient as it gets — just ask anyone who's opted for the lightweight BACtrack Keychain. To perform a quick test, simply power on the device, wait approximately 12 seconds, and then blow into the built-in tube for a minimum of five seconds. Your results will then appear on the device's backlit display within seconds.
Author Bio:
Shannon I. Wilson, Attorney at Law provides full service representation for Criminal offenses, DUI, felonies & Drug Crimes in Oregon.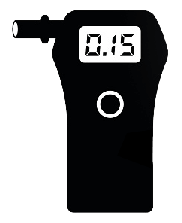 Get that Breathalyzer you've always wanted.
Sign up today for weekly tip and tricks for drinking smart. Get a full PDF Copy of our BAC Chart.