Consequences of a Third-time DUI in California
If you are charged with a third or subsequent DUI within 10 years of a second DUI in California, the penalties you face are severe. If convicted, you will be required to serve at least 120 days in county jail. You could be sentenced to as many as 364 days in jail. You could also be fined up to $1,000.
In addition to mandatory jail time and expensive fines, your driver's license could be suspended for three years if you are convicted of a third offense DUI. You will have no possibility to obtain a restricted license for at least 18 months.
You will also be ordered to attend a 30-month alcohol education program for a third or subsequent DUI conviction in California. The program consists of both lecture-style classes as well as group sessions that require individual participation.
It is important to remember that any penalties imposed by the DMV are entirely separate from those associated with a criminal DUI charge. In fact, regardless of the outcome of your administrative hearing, you will face additional penalties, including a longer license suspension and possible jail sentence, if you are found guilty of drunk driving in criminal court.
Penalties
Minimum of 120 Days jail time and a maximum of 1 year jail time
Drivers license suspension for up to 3 years
Designation as a habitual traffic offender
Possible vehicle confiscation
Fines and legal fees can often reach an accumulated cost of $1800 to $18000
Mandatory filing for SR-22 insurance. An SR-22, sometimes referred to as a certificate of insurance or a financial responsibility filing, is a vehicle liability document required by most state Department of Motor Vehicles (DMV) offices for "high-risk" insurance policies
Installation of an Ignition Interlock Device. You will have to pay for the device and its installation out of your own pocket
Participation in and completion of a DUI program
Aggravating Factors in a Third DUI Charge
The minimum 120 days in county jail will be imposed in the typical 3rd DUI case. For 3rd DUI penalties to apply, the 3rd DUI offense has to occur within 10 years of the first DUI. If certain aggravating factors were present during the 3rd DUI offense, the court will impose a longer jail term. This list of "aggravating" factors that increase jail time for a 3rd DUI are:
If any one of these factors is present in a 3rd DUI case, a longer jail term of up to one year is likely. If people, other than the DUI driver, are seriously injured as a result of the accident, felony DUI charges may be brought against the driver.
What to do?
Many attorneys, even DUI attorneys, will advise you that there is absolutely no way to stay out of jail on a 3rd DUI because there is a statutory fixed jail requirement of 120 days if convicted of a third DUI. This, however, is incorrect. Penal Code Section 2900 (a) (f), at the discretion of the judge, allows alternative sentencing on a third DUI. Such jail alternatives must be deemed as "custody" by the court, but the availability of such alternatives to jail vary from county to county and even court room to court room. You'll need to speak to a DUI attorney who is experienced in representing individuals accused of a third DUI to understand what alternatives exist and for what reason.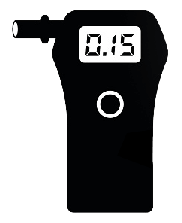 Get that Breathalyzer you've always wanted.
Sign up today for weekly tip and tricks for drinking smart. Get a full PDF Copy of our BAC Chart.