What are the different types of Red Wine?
There are different varieties of red grape. Wines are categorized according to the variety and production. If only varieties are considered to categorize the wine, the wine is called varietal and is named after the grape from which it's made. The taste of wine depends largely on the grape from which it's made. Eight types of red wine are mentioned below.
Syrah (AKA Shiraz)
This type of wine is typically found in California, Australia, and in the Rhone Valley of France. It is paired with meat like beef, stews, steak etc. It contains the scent and flavor of wild black fruit. The richness of fruit sensations is accompanied with warm alcohol and fascinating tannins.
Shiraz has a hearty and spicy taste. It is used to form many wines that are the world's finest, deepest and darkest reds with exquisite flavors and outstanding durability.
Merlot
It is considered as an introducing wine for those who drink red-wine for the first time because of its quality of softness which makes it easy to drink. It can be paired with any food. It is produced in Italy, Romania, California, Washington State, Chile, and Australia etc. It has the fourth largest production in the world.
It has the aroma of plums and black cherry and a flavor that is herbal. This type of wine is no more tannic than the Cabernet Sauvignon.
Cabernet Sauvignon
It is considered as one of the best wines in the world. It is frequently mixed with cabernet franc and merlot and usually goes through oak treatment. It tastes great with red meat.
Cabernet sauvignon is grown in all those areas where the red wine grape is produced except the Northern fringes. It is one of the finest red wines in Australia, California and Chile and it is also one of the great red Medoc wines of France.
It is not only flavorful but also firm and is fascinating when young.
Malbec
The origin of Malbec can be found in the French region of Bordeaux. It is considered as Medoc Noir and Pressac in France. It is widely grown in Argentina and can also be found in Australia, Chile, and the colder areas of California.
It tastes great with meat. Argentine Malbec tastes great with Mexican, Cajun and Indian dishes. The qualities of Malbec differ depending upon the area it's grown and the procedure of transformation. It creates an easy-drinking style and has a taste of berries, spice and plum. It is mixed with cabernet franc, Cabernet Sauvignon, merlot and petit verdot. Bordeaux style wines are made as a result of these mixtures. These blends can have some health benefits.
Pinot Noir
It is hard to grow, seldom blended and does not have roughness. It is one of the noblest red wine grapes. It tastes great with grilled salmon, chicken, lamb and Japanese dishes.
It is grown in Austria, California, Oregon and New Zealand. It has a fruity aroma and a delicate and fresh structure. Pinot noir is not affected by the place where it is grown.
Zinfandel
It is considered to be the world's most versatile wine grape. The freshness and heaviness of wine determines the food with which it should be paired. It has a stimulating flavor of berry and pepper. It tastes good with tomato-sauce pasta, pizza and grilled and barbecued meats.
It is found in California and is originated from Italy.
Sangiovese
It is grown in the Italy's Tuscany region and California. It has fresh berry and plum flavors. It tastes good with Italian and some Mediterranean-style dishes.
Barbera
It has characteristics similar to those of Merlot. These vines are versatile. They pair up with many cuisines and tomato sauces. It is Italian in origin and largely grown in California.
Author Bio:
The Law Offices of S. Ouya Maina provide strong legal services for immigration cases.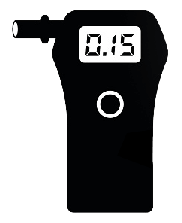 Get that Breathalyzer you've always wanted.
Sign up today for weekly tip and tricks for drinking smart. Get a full PDF Copy of our BAC Chart.