Why Drunk Drivers Often Flee the Scene of an Accident
In New York City in 2016, only thirteen arrests came out of thirty-nine fatal hit-and-run cases. And tragically, hit-and-run accidents have been on the rise nationwide since 2009, according to the National Highway Traffic Safety Administration. Drunk driving hit-and-run accidents are even more upsetting since they are easily preventable. In these cases, the law has been broken twice, and the whole thing could've been avoided if the driver had not gotten behind the wheel while intoxicated.
Why They Flee
The fact is that some drunk drivers are so out of their minds that they don't even remember what happened. For others, their moral judgement is impaired by the alcohol. Still more are terrified, in shock, or ashamed and can't face what they've done. Drivers who flee may also have something else to hide, like a suspended license or drugs.
But in New York—where drunk driving penalties are stiffer than those for hit-and-runs—some purposefully leave to go sober up, even as they plan to eventually turn themselves in. This temptation is stronger for them if they have prior convictions. But if the person they hit has been hurt, they are missing a chance to help the victim—possibly saving a life.
NYC Politicians Are on the Case
After a popular New York City DJ, Jinx Paul, was killed in a hit-and-run drunk driving accident, local lawmakers began working hard to present new strategies that will help bring delinquent drivers to justice. Ideas include a $1,000 reward to report drivers who leave the scene and legislating how law enforcement can get quick access to video footage to help track down the perp.
They also think that enlisting residents who live near the scene of an accident through sending out emails, texts, and alerts (like the kidnapped children Amber alerts) can help provide tips. So could increasing the penalties for hit-and-run accidents by changing "leaving the scene of an accident with a serious injury" to a class D felony from a class E, and a fatal hit-and-run from a class D felony to a class C.
Drunk Driving Statistics
Twenty-nine percent of people who died in motor vehicle accidents in the United States in 2015 were killed by drunk drivers. That is 10,265 people who died senselessly. It is imperative for us all to help each other stay off the road when we have had too much to drink. Read here about some common misconceptions that can lead to otherwise conscientious people getting behind the wheel while intoxicated.
How to Know if You Should Be Driving
If in doubt, you can take a cab, but those fares add up. Some savvy drinkers opt to keep a breathalyzer in their car so they can be in control of their own consumption. Check the different kinds BloodAlcoholCalculator.org sells for civilian and professional use in the online store. A small keychain model starts at $39.99, which is a small price to pay for peace of mind—especially if using it eliminates the possibility of a drunk driving hit-and-run.
And finally, click here if you've been injured by a drunk driver in Brooklyn, New York.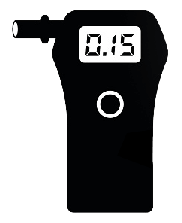 Get that Breathalyzer you've always wanted.
Sign up today for weekly tip and tricks for drinking smart. Get a full PDF Copy of our BAC Chart.