Drunk Driving Statistics to Remember
Driving a vehicle under the influence of alcohol may result in serious penalties such as loss of license, jail time and heavy fines. Police officers on duty usually catch the defendant using a breathalyzer or by chemical analysis of urine and blood samples. People with 0.08% or higher alcohol content in their blood do not qualify to operate a vehicle. The level of alcohol required for a DUI offense may vary in different states. Every state has its own laws for DUI offenses and DUI attorneys can be hired to handle these cases carefully and strategically to avoid injustice.
While the number of DUI's is going down, Fatalities are going up
The number of DUI based fatalities keeps increasing year by year. This number has sharply increased in the year 2016 which is recorded to be one of the worst years for drunk-driving fatalities. On average, 28 people have died on a daily basis in such accidents. In 2015, the number of casualties increased by 300 (7.2%) as compared to statistics from the year before. Regardless of this 5% increase in drunk-driving fatalities, there was a decrease in the number of cases involving motorcycles and mini trucks.
The increase or decrease in the number of fatalities also differs from state to state. For example in 2015, the rate of fatalities decreased in Texas state by 123 as compared to the records of 2014. There was a higher rate of increase in drunk-driving fatalities in Arizona which increased by 72. Similarly, the number of drunk-driving fatalities recorded in Florida increased by 103, Georgia increased by 87, Michigan increased by 55 and Oregon increased by 56.
Way to go Utah!
The highest percentage of alcohol impaired deaths in 2015 was in Rhode Island which was 43% of the total traffic fatalities. The lowest percentage was recorded in Utah, which was 16% of all traffic related fatalities. It is an interesting fact that about one-third of all drivers arrested or convicted for DUI offenses are repeat offenders. On average, drunk-driving costs an American $800 per year and it costs the United States $199 billion a year.
The installation of Ignition Interlock Devices has reduced the number of DUI offense based arrests by 70%. Approximately, 1.46 million people are arrested annually for driving under the influence. A recent survey showed that 62% of eighth grade students, who took part in a study, said that obtaining alcohol is fairly easy. This percentage increased to 82.6% in tenth grade students and to 92.2% in twelfth grade students. These results are shocking as the minimum age for legal intake of alcohol is 21 in the United States.
Weekend Madness
In 2012, the Federal Bureau of Investigation released some shocking information that each day, people drive under the influence of alcohol nearly 300,000 times but less than 4,000 people are arrested. 30% of all DUI fatalities occur at night, between 9pm to 3am on Thursdays, Fridays and Saturdays. 33% of DUI fatalities involve drivers between the ages 17 – 24. Alcohol is responsible for nearly half of the crashes involving teen deaths (46%).
These statistics reflect the danger the country is facing regardless of the strict laws and penalties. The introduction of devices such as Ignition Interlock Devices has brought immense changes in the statistics but the rate of accidents involving teens are increasing rapidly. The National Highway Traffic Safety Administration announced that the increase in DUI fatalities from 2014 to 2015 was the largest in the last ten years. This is an alarming situation and serious measures should be taken by the authorities and the public to avoid such unfortunate incidents.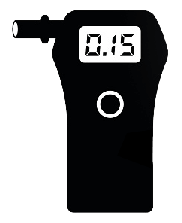 Get that Breathalyzer you've always wanted.
Sign up today for weekly tip and tricks for drinking smart. Get a full PDF Copy of our BAC Chart.