DUI Cases Drop but Assault Spikes in Billings
Billings, Montana. Billings Police Chief, Rich St. John reported at a City Hall press conference that there fewer DUI cases filed in Billings in 2016 than there was the previous year of 2015. The reason for the downtrend is attributed to the increase of the number of sworn officers and proactive policing.
The number of service calls to Billings police have dropped from over 87,000 calls in 2015 to just over 84,000 in 2016. A significant improvement which is hoped to continue in 2017. The drop in calls is the result an increase of police presence in the downtown area which is the pilot site for the Motivated Addiction Alternative Program. The program involves police officers and social workers offering treatment to offenders as opposed to tickets of jail time. DUI crashes went down from 111 to 67 as well as other DUI related cases which ST. John attributes to his increase of staff and their public outreach program.
However, the number of other crimes such as aggravated assault and burglaries have increased. These assaults include assaults on officers during a time when law enforcement was viewed with animosity. Burglary cases have risen from 463 cases to 564. Drug cases have also increased significantly up 69 percent from 2011 to 2016. There have been 111 drug-related arrests in 2016 alone many of which happened at the town's Jefferson Bus Lines terminal.
Billings now has a total of 148 sworn officers, plus seven people responsible for animal control and 28 civilian staff members and an undetermined volunteer unit that completed over 3,000 case reports in 2016 which ranged from towing notices to vandalism and abandoned vehicles.
http://985thewolf.com/dui-crashes-down-weapon-assaults-up-in-2016-billings-police-report-says/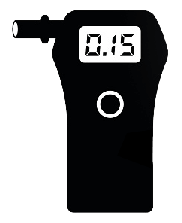 Get that Breathalyzer you've always wanted.
Sign up today for weekly tip and tricks for drinking smart. Get a full PDF Copy of our BAC Chart.