DUI Causes Death of Myrtle Teenager
BENTON COUNTY, Mississippi. A head-on collision that occurred last February 25, 2017 at Benton County claimed the life of teenager Alee Thomas, aged 18 from Myrtle, Mississippi. According to investigators, Thomas' vehicle collided head-on with the vehicle driven by Potts Camp resident Ronnie Parker, aged 51
Parker was apparently travelling East-bound when his 1999 Ford F350 swerved to the opposite lane and collided with the 2013 Chevrolet SUV driven by Thomas' along with her brother Christian aged 20. The incident occurred at MS 178 near Hickory Flat and was responded to by state troopers around 3pm.
Alee Thomas was airlifted to Region One Hospital in Memphis Tennessee but later died from her injuries sustained in the crash. Her brother Christian who sustained moderate injuries was transported to Baptist Hospital in New Albany along with Ronnie Parker who was treated for minor injuries.
Parker was released after treatment and remanded to Benton County Jail. A motion was filed by the District Attorney's Office for Parker to be held without bond during the investigation.
After the gathering of evidence from the crash scene by the combined efforts of State Troopers and the Mississippi Highway Patrol Accident Reconstruction Team, as well as evidence from toxicology reports, it was determined that Ronnie Parker was driving under the influence of alcohol which caused him to cross over to the opposite lane resulting in the crash. This prompted local authorities to formally charge him with aggravated DUI causing death.
The case remains under investigation and Ronnie Parker currently remains in Benton County Jail.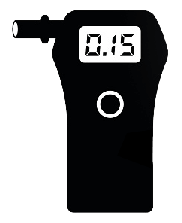 Get that Breathalyzer you've always wanted.
Sign up today for weekly tip and tricks for drinking smart. Get a full PDF Copy of our BAC Chart.