DUI Lawyer Shopping
Even a small DUI offense can result in serious charges; it is always ideal to hire an experienced attorney to avoid any injustice, especially if the defendant is a second time offender. The defendant must hire an attorney if the conviction seems to result in penalties like jail-time, license suspension, and heavy fines. In most states, the law imposes mandatory jail-time and license suspensions for drunk driving offenses. Having the right lawyer can make a huge difference as these cases may leave a permanent mark on the defendant's life. Some cases even lead to loss of license or a permanent black mark on the defendant's record.
People find value in experience, particular when your criminal record is on the line.
While hiring an attorney, the first thing to keep in mind is that experience and expertise is the most important feature. There should be no compromise on the attorney's potential as it directly affects the way the case is handled. The search for lawyers should be constrained to areas within the state as different states have different DUI laws. Getting help from friends who are lawyers in other states may seem convenient but it may backfire as they only know and practice the law of their own state. It is never a good idea to hire an attorney with expertise in other areas of laws. For example, one should not hire a commercial law attorney for a DUI case, even if they are related to you and are willing to help you free of charge.
Green Lights and Red Flags
Before hiring an attorney, one should also communicate with their other clients to make sure that their services are reliable and ethical. One should talk to the attorney about the case before hiring them. Many attorneys make false and unrealistic promises. The defendant must be aware of these attorneys as once the offense has taken place, there have to be some consequences. The attorney should help the defendant receive the minimum or deserved penalty without any injustice. If their promises seem to go against the laws, one should not consider hiring them. If they handle more than one type of criminal cases, it would be a good idea to hire them as they might have the experience and other tools to tackle the situation in an effective way because of their extensive knowledge in the field of criminal law which includes DUI cases. If the attorney is dealing with a variety of cases, for example: if someone is dealing with divorces, criminal cases, child support and commercial cases, they might lose their focus in your case and it might result in a mishap from their side. Such an attorney should not be considered for a DUI case.
Reviews and local Reputation are Important
The defendant should make a list of more than one local attorneys to make sure that the best one is being hired. It is a matter of the defendant's license and freedom; such cases may leave long-term effects on one's life. The attorney should be chosen carefully on the basis of qualification, past experience as well as experience in dealing with cases similar to yours, feedback of their past clients and comfort level with the clients. Once the attorney is chosen and details of the case are communicated with them, the defendant must discuss the charges for their services, ask for a bargain, and get everything written and signed before the hearing starts. The defendant should do all the research required before hiring an attorney to avoid injustice to oneself and others.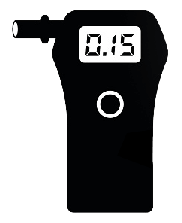 Get that Breathalyzer you've always wanted.
Sign up today for weekly tip and tricks for drinking smart. Get a full PDF Copy of our BAC Chart.