DUI Victims Offer Support to DUI Offenders
The group Mothers Against Drunk Driving spoke at the capitol in support of bills designed to make roads safer for everyone. One law in particular, a 2015 Texas legislation which allows the installment of ignition interlock systems for DUI first offenders has their support
The legislation allows for anyone with a Driving Under the Influence case supported by a breath to alcohol concentration (BAC) of .15 to be given a choice between an ignition interlock device or get their license suspended.
MADD is all for the installment of ignition interlocks as many people who have suspended licenses end up driving anyway and are not inspected until it's too late. 33 percent of first offenders are often involved in subsequent DUI cases.
"It is for only first time offenders, there can be no serious injury, they must accept an ignition interlock device, and by doing so, if there are no further offenses, then the first offense is adjudicated,"
— Jaime Gutierrez, Director, MADD
First offenders are required to be installed with interlock devices in their vehicles. These devices are kept for six months to keep them out of trouble. If they turn out dry for six months, their DUI case gets expunged and the world again becomes their oyster if they have no other criminal record. If they somehow incur another DUI, they're slapped with a second conviction and there goes the program.
According to MADD, the ignition interlock law has their full support. There is also wide support among law makers and state prosecutors. Under the new law, first time offenders are treated fairly while intense punishment awaits repeat offenders. A similar bill is pending to become new law in the Florida House of Representatives. 28 other states also have laws involving ignition interlockers to combat the rising problem of DUI.
http://keyetv.com/news/local/drunk-driving-victims-support-bills-giving-dui-offenders-second-chance&ct=ga&cd=CAIyGjEzNTBmYTgwZDQ2MjM2Yjc6Y29tOmVuOlVT&usg=AFQjCNFGphPrQ24aqQwqZpqTwxe5CF45ag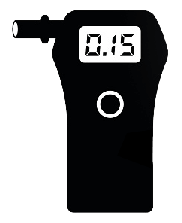 Get that Breathalyzer you've always wanted.
Sign up today for weekly tip and tricks for drinking smart. Get a full PDF Copy of our BAC Chart.