How to find a killer DUI Lawyer
Here's a joke for you: What do they call a Lawyer who passed the Bar with a C ?
Answer: A lawyer
Not all of them are the same and not all of them have the same agenda. Some of them look at their clients as dollar signs, some of them truly care about getting results in the pursuit of justice.  Some of them are truly talented within a specific field of law, where others dabble in a little bit of everything depending on who comes through the door.
That being said, here are some tips to find a good DUI lawyer that is right for you:
Special Training / Education
The DUI Lawyer you want to hire has been to seminars and educational courses dedicated to the field of DUI Law. Look for special credentials like the National College of DUI Defense. There are only a handful of lawyers in each town that will have these credentials, so be sure to look for them.
Good Reviews
Say what you want about reviews, but usually they will save you a lot of hassle and nightmare. The best lawyers will generally have glowing reviews that can't be faked. Check AVVO, Yelp and Google+ to see what you can find.
Former Prosecutors
I am not saying that all former prosecutors are always better than non-former prosecutors. I am suggesting that former prosecutors know the ins and outs of particular court rooms better than most local attorneys. This is because they have played both sides and probably have great rapport with the courtroom staff.
Cheap is Bad
You really get what you pay for in the legal industry. While not impossible, it is very unlikely that an inexpensive lawyer is going to get you a better outcome than a more expensive lawyer. Better lawyers charge more because they have a good reputation and consistent business coming through their doors.
Good Consultation
During your consultation you should have a great feeling about this attorney. That he/she is knowledgeable about your situation, is patient and will listen to the entire story. They should not jump straight to pricing, or be asking you about your financial situation in the first few sentences. You should not feel like they are rushing you either.
No Promises
If a DUI Lawyer promises you an outcome, run. There is no way to tell what your outcome will be until after the judge/DA's Office has made their decision. A good lawyer will not promise anything, so don't be sold on the promise of a dismissal or another desirable outcome.
Some public defenders are better than some private lawyers but you have to consider that most of them won't spend nearly as much time on your case, because of their case schedule and case load. It is physically impossible.  We hope this has been valuable for you.
If you have any questions, feel free to contact us.
In search of a DUI Lawyer? Check out our DUI Lawyer Directory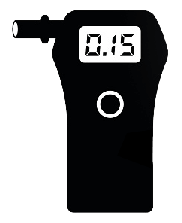 Get that Breathalyzer you've always wanted.
Sign up today for weekly tip and tricks for drinking smart. Get a full PDF Copy of our BAC Chart.