How to identify a drunk driver
Austin, TX – The American Automobile Association expects 103 million Americans to travel during the year-end holiday season which runs Friday, December 23 to Monday, January 2, 2017. Sadly, if you are one of the millions of motorists planning on hitting the road for New Year's Eve or New Year's Day, you are two to three times more likely to be killed in a drunk driving-related crash. Sorry, that's not a pleasant thought, but it is a reality all drivers must face and a warning that you need to be vigilant this holiday season. Here are some tips on how to identify a drunk driver.
Drunk driving is a primary cause of Holiday crashes
There were 422 fatal drunk driving crashes in the Lone Star State in 2015, according to Texas Department of Transportation. Additionally, the TX DOT reports that between December 1, 2015, and January 1, 2015, there were 2,374 drunk driving accidents resulting in 102 fatalities in the same year. Over a hundred alcohol-related deaths in little over a month's time show that traveling during the holidays, including New Year's Eve and Day, can be treacherous and you are more likely to be involved in a devastating crash this time of year than any other.
In a previous study, the AAA Foundation for Traffic Safety's Traffic Safety Culture Index found that 21 percent of licensed drivers who are occasional drinkers admitted to driving when they believed their blood alcohol concentration exceeded the legal limit at least one in the previous 12 months.
How to identify a drunk driver
Motorists can only control their actions, so they must be vigilant this New Year's and learn how to identify drunk drivers on the road. You can safeguard your loved ones by looking for these common signs of an alcohol-impaired driver:
Weaving or drastic lane deviations and overcorrections
Following too closely
Repeated acceleration and deceleration
Driving the wrong way
Slow to respond to traffic signals
Driving with no headlights at night
Nearly hitting a fixed object, vehicle or curb
Illegal turns or U-turns
If you do run across a drunk driver during your travels, you need to say away from the driver. You should put as much distance between you and the suspected DWI driver as you can. Advocacy group Mothers Against Drunk Drivers warns not to engage the drunk driver or try to get them to pull over because you could cause and accident.
MADD also recommends you pull over and contact law enforcement in Austin to report the suspected driver. Try to give them a thorough description of the motorist's vehicle and if you are able, get the offender's license plate number.
Most Texans don't intend to drive drunk, but alcohol makes people overconfident and willing to take risks they wouldn't if they were sober. If you were unlucky enough to be hit by a drunk driver New Year's Eve or New Year's Day, USAttorneys recommends you speak with a personal injury attorney to see if you are eligible for compensation. DWI accident lawyer Luke Dow can offer you experienced representation and will strive to get the best outcome for your case. Call his Austin, Texas office at 512-480-9502 and arrange a case evaluation.
Sources:
http://newsroom.aaa.com/2015/12/aaa-number-of-holiday-travelers-expected-to-top-100-million-for-the-first-time/
http://ftp.dot.state.tx.us/pub/txdot-info/trf/crash_statistics/2015/37.pdf
https://www.lukedow.com/personal-injury/dwi-accidents/
Summary
Article Name
How to identify a drunk driver
Description
Drunk drivers represent a very serious threat while on the roads, so here are some helpful hints about how to identify a drunk driver.
Author
Publisher Name
Publisher Logo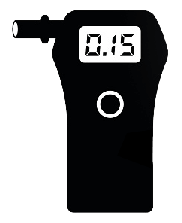 Get that Breathalyzer you've always wanted.
Sign up today for weekly tip and tricks for drinking smart. Get a full PDF Copy of our BAC Chart.