How To Negotiate When Hiring A DUI Lawyer
If you've been arrested for a DUI, you need an attorney immediately. You'd be correct to assume that hiring the best attorney to defend you will not be the cheapest option. But, rather than go with a court-appointed public defender who has too many clients and too little time, consider negotiating fees with a well-qualified lawyer who specializes in DUI cases.
What to Look for in an Attorney
Hiring a DUI attorney isn't a situation in which to be looking for the lowest cost service. Often, you get what you pay for. In the case of a DUI, you certainly want to be well represented. That means you may have to make some monetary sacrifices now and in the future, whether that means negotiating a fair attorney's fee or creating payment options. Here are a few elements to be aware of when selecting the right council:
Advice on How to Plea
A good DUI attorney can offer advice on whether to plead guilty or go to court with your case. This is important, because DUIs are often extremely complicated situations.
Navigation Through Courts and the DMV
Your DUI attorney should be able to guide you through court proceedings, which will almost certainly affect you in various long-term ways. You may be facing drivers' license suspension and revocation, or even jail time. You will want a lawyer experienced in handling all of the possible outcomes.
Recommendations
Top DUI lawyers are firstly identifiable through State Bar Associations and National Attorney Associations. Plus, you can find some great attorneys on lawyer review websites and attorney forums. Of course, personal recommendations will leave you with a highly skilled and experienced attorney to represent you.
Qualifications
You should ask about the qualifications of any attorney you're thinking about hiring. Inquire about how many DUI cases they have handled, success rates, educational backgrounds, and state bar association status.
How to Negotiate with Your Lawyer
After you've researched DUI attorneys and found the best possible representation for your particular circumstances, it's time to negotiate fees. Your attorney should be upfront regarding amounts for a consultation fee, hourly fees, document processing fees, and any other fees involved with DUI charges and DMV settlement matters. Fees vary and they can add up quickly, but don't despair if the numbers look like they're too much to handle. Ask about payment plans, discounts for referrals, discounts for situations you might not have thought about, lowered fees for only handling certain processes and procedures, or even possibly reduced fees because another highly skilled attorney quoted you less. You never know what might be offered to you.
In the end, it's understandable that you want to save money or you might not have money to spend. But, even if you have to take out a loan or ask family to borrow money, you need an experienced lawyer to help save you some of the agony in the aftermath of a DUI.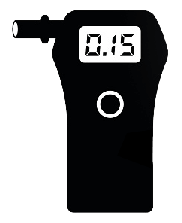 Get that Breathalyzer you've always wanted.
Sign up today for weekly tip and tricks for drinking smart. Get a full PDF Copy of our BAC Chart.