Recent Facts on Drunk-driving accidents
Every year, drunk-driving claims the lives of tens of thousands of Americans. Among car accident-related deaths which occur in the United States each year, driving under the influence or driving while intoxicated accounts for more than 30 percent. The National Highway Traffic and Safety Administration-which is an agency that governs highway safety programs-refers to drunk-driving incidents as "alcohol-impaired-driving accidents."
Each year, the NHTSA releases facts concerning drunk-driving, which are constantly changing with the times. Here are the latest facts.
According to the NHTSA's 2009 Fatality Analysis Reporting System (FARS), there were 10,839 fatalities due to alcohol-impaired driving by drivers with a blood alcohol concentration of .08.
In 2009, 38% of all car accident fatalities involved drivers with a Blood Alcohol Content (BAC) which was above the legal limit.
In almost all fifty states, a Blood Alcohol Concentration (BAC) level of .08 or greater is considered above the legal limit. In 2008, the most frequently recorded BAC level drivers involved in fatal drunk-driving accidents.16-twice the legal limit.
In 2008, there with 11,773 drunk-driving fatalities.
2008 showed a 9.7 decline from the 2007 figure in the number of drunk-driving incidents.
Fatalities due to drunk driving accounted for more than 30 percent of all car accident deaths in 2008.
In the same year, 2008, weekday drivers were twice less likely to figure in drunk-driving accident than those who drove on weekends.
2008 statistics also showed that nighttime drivers were four times more likely to die in drunk-driving accidents than those who drove during the day.
There were 216 children aged 14 and below who died in 2008 drunk-driving accidents. Of this number, 34 children died as pedestrians when struck by drunken drivers.
The 2008 statistics showed that 34 percent of all drunk driver fatalities belonged to the 21-24 age group.
According to the NHTSA, American teenagers between the ages of 16 and 20 were more likely to die in drunken driving incidents than adults who fell between the ages of 55 and 64.
In 2008, teens accounted for 17% of all drunk driving crash incidents. Those aged 55 to 64 accounted for 12%.
Seventy-five percent of all drivers who were driving drunk were not wearing seat belts.
In 2008, those drivers who had BAC levels over the legal limit when they died were eight times more likely to have been previously charged and convicted for DUI.
In 2008, motorcycle-related drunk driving accidents experienced more fatalities than those involving cars. The percentage of bikers with a BAC level greater than .08 when they died in a drunk-driving crash was higher than the number of drunk drivers on other types of vehicles.
Any local car accident attorney near you will tell you, In the two minutes it will take you to read this short article, one person would have been injured somewhere in the United States in an alcohol-related accident. This crime-considered a felony in almost all states-is one which affects people all over the country each day. Alcohol-impaired driving is one of the most common crimes committed by Americans, but its numbers can be reduced by individual efforts to get educated about driving safety and proper blood alcohol concentration levels.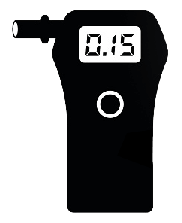 Get that Breathalyzer you've always wanted.
Sign up today for weekly tip and tricks for drinking smart. Get a full PDF Copy of our BAC Chart.