What Can Happen If You Refuse To Take A Breath Or Blood Test In Texas for DWI?
If you are pulled over for a DWI (DUI), in Texas, and you are asked by the officer to take either a breath or blood test, do you have to take either? What are the consequences to a refusal in Texas, if any, if you refute to take either?
Implied Consent
The law in Texas requires that you adhere to a breath or blood test if you're arrested for a DWI/DUI.  Texas "implied consent" regulation states that if you're legitimately arrested with probable cause, by an officer who thinks that you are under the influence while driving an automobile or boat, then you give consent to one or more tests by way of your breath, blood, or both. This is all with the intent of determining what your blood alcohol content (BAC) is. The test is usually taken immediately after being detained or investigated, and the test take is chosen by the officer.  After you have submitted to the officer's test,  within 2 hours of your arrest, you have the right to have blood drawn by a professional medical attendant of your choosing.
You can study Texas' implied consent laws here: Texas Transportation Code Annotated 724.011.
What Can Happen Upon Refusal Of Taking the Test:
1st Offense: 180 days with license suspension
2nd Offense:  2 Years License Suspension

3rd Offense: 2 Years License Suspension
After an arrest has been made, the police officer should give you in writing, as well as verbally tell you, that in the event you will not adhere to a test, then your refusal can be used as proof in court against you, and your license will soon be suspended for a minimum of 180 days. Also, the officer needs to tell you that in the event you opt to take any of the tests and your results demonstrate your blood alcohol content is over the limit that is lawful, you will have a 90 day license suspension. The officer may request that you take a test after explaining these results.
Should you refuse to take the test, the police officer is going to have you sign a document that states they warned you of the results of refusing to take the test, they explicitly asked you to agree to taking a test, and that you refused. At this point, your license will be taken by the officer. You will receive a short-term license that will be valid for forty-one times. Inside of 15 days, you will be able to ask for a hearing.  In this hearing you will be able to challenge the license suspension. If you neglect to ask for a hearing, or if you ask for a hearing but do not demonstrate that the officer did not possess a reasonable cause that you actually did not refuse a test or that you had driven intoxicated, for 180 days your license will remain suspended if this was the first time that you had refused.. Upon your 2nd refusal, or any thereafter with a decade (10 years), your license suspension will last 2 years.
In the majority of cases, a police officer can't get a test taken in the event that you decline to take one. However, there are a few exceptions:
If your present arrest involves anyone that was killed or seriously injured
If you've had 2 previous DWI/DUI convictions
If you've had 1 prior conviction, but there was an adolescent in the automobile or boat, or there was a person severely injured or killed.
If in the midst of an auto accident you were left unconscious from the collision, the officer will not have to request your permission to get a test.
The results of refusing testing can be found here: Texas Transportation Code (724.035).
In The Event, You Refuse the Required DWI Testing in Texas?
It generally will not prevent you from getting a DUI if you refuse a breath or blood test. Your license will be suspended for a first Texas DWI, with 3 days in jail. If there were open containers in your vehicle upon being arrested, then you'll get 6 days. Nonetheless, refusing the evaluation will not ensure that you won't be charged. You could still be found guilty even in the case that the state doesn't have evidence that your blood alcohol content was over the legal limit (.08%, which is the legal BAC limit for homo sapiens over the age of 21). Your refusal can be used by the prosecution by arguing that the test was refused by you since you understood that you would be found guilty.
Don't Wait To Seek Help For A DWI
In the event, you were arrested and charged with a Texas DWI, or any other state, seek counsel from an experienced DWI lawyer. The difference between a DWI and other charges, which can be worth battling without a counsel, conviction of DWI can have big time repercussions, especially if bodily injury, death, multiple offenses, or damaged property are involved. You need find an expert attorney, with a background in your state's laws, that knows the county's court system, and how it works!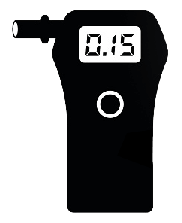 Get that Breathalyzer you've always wanted.
Sign up today for weekly tip and tricks for drinking smart. Get a full PDF Copy of our BAC Chart.