Rush Hour for Drunk Drivers
As you might expect, drunk driving increases at the times when people get their party on. Fatal accidents are almost twice as likely to happen on the weekend as they are during the week. The National Highway Traffic Safety Administration (NHTSA) says that finding a drunk driver on the road is four times more likely at night, with the riskiest times being in the following order:
Midnight to 3:00 a.m.

6:00 p.m. to Midnight

3:00 a.m. to 6:00 a.m.
The time of year also plays into the equation. The span between Thanksgiving and New Year's Day and the summer break are the most problematic spans of time, with the holidays being especially troublesome. Celebrations often include alcohol, and some revelers drink to celebrate the season while others indulge to cope with family tension.
Holiday Times to Look Out For
Blackout Wednesday is the day before Thanksgiving when millions of Americans return home and scores of them go out in their hometowns with old friends. This is especially true of college students and recent grads returning home because their age group has trouble holding their liquor—they get into more crashes than older drivers based on the same blood alcohol content, according to the Centers for Disease Control and Prevention (CDC). They are also more likely to speed, tailgate, and use cell phones while driving—a recipe for disaster.
As for Christmas, drunk driving fatalities can rise as much as 10 percentage points, and on New Year's Eve through New Year's Day, the number of alcohol-related crashes shoots up to around 50 percent. As a side note, marijuana users are 25 percent more likely to crash than those who abstain, adding to the risk of those who drink and smoke.
These holidays always show an increase nationally in DUI/DWI convictions and accidents:
Memorial Day, Labor Day, and other long holiday weekends

New Year's Eve and New Year's Day

Thanksgiving

Independence Day

Christmas

St. Patrick's Day
Mardi Gras
Since the holiday is synonymous with drunken revelry, Mardi Gras is often the most fatal holiday in Louisiana as far as traffic crash deaths are concerned. This year, State Trooper Brooks David had some sobering words for those ready to take the party on wheels, saying that graveyards are full of people who didn't expect to be hit by impaired drivers and that jails are "full of people who said they would never kill anybody in an impaired crash and they did." (Source: KLAF News) He also added that any long weekend means more drunk driving arrests for their crew, with one recent weekend bringing in forty-two drunks in just twelve hours.
For this year's Mardi Gras celebration, the United States Department of Transportation offered free downloads of these cheeky signs meant to remind revelers that illegal driving should not be a part of the festivities:
Buzzed Driving Is Drunk Driving.

Don't let FAT TUESDAY turn into SORRY WEDNESDAY.

Look ridiculous, don't act ridiculous.

Protect your beads. Don't drive drunk this Mardi Gras.
What You Can Do
121 million people admit to driving drunk yearly, and cops catch about a million of those. As car accident lawyers, we at Spencer Calahan Injury Lawyers see the results of alcohol-related crashes often. We understand that while many drivers are repeat offenders, you might get behind the wheel not realizing you've had too much. Factors include how strong your drinks were, how fast you drank them, how much you ate, and what medicine you have taken. To ensure that you don't drive while intoxicated, you can store one of these commercial-use breathalyzers in your car and check your blood alcohol content (BAC) before a trooper does.
To see more drunk driving statistics, click here. And if you have any questions about drunk driving cases or any type of car accident, you can contact a Baton Rouge car accident lawyer for a free case evaluation today.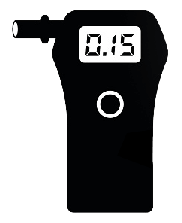 Get that Breathalyzer you've always wanted.
Sign up today for weekly tip and tricks for drinking smart. Get a full PDF Copy of our BAC Chart.