Spotlight Law Firm in North Carolina – Robert J. Reeves P.C.
Need a lawyer – Robert J Reeves P.C is the answer
Robert J Reeves P.C. is a law firm based in North and South Carolina who specializes in three main types of law.These are Personal Injury ,Criminal Law and Family Law.
They have offices in both North and South Carolina. In fact the office in North Carolina dealing with cases in the North mainly but being based in the city of Charlotte deals with matters in both States.
RJR law is a top law firm who has many clients and a long history of success.
If you are in the unfortunate position of having to consult a lawyer whether just for some advice or in fact to attend court, this is the firm you need to represent you.
The areas that they practice and specialize in are listed below:
Criminal Defense
RJR lawyers have attorneys who specialize and focus on criminal defense. They represent those charged with DUI, DUAC, DWI, Drug crimes, all state and federal felonies, all misdemeanors, criminal and domestic violence fraud and embezzlement. Their lawyers are very experienced in dealing with these types of offences. Not only are they understanding and approachable at all hours of the day (Your lawyer will even give you their personal mobile number) but will advise on the best way of tackling your problem to ensure the best result possible for the client.
Personal Injury
Their firm handles all types of personal injury cases. These includes motor vehicle accidents, workman's compensation, boating accidents and wrongful death injuries. In addition to these they will assist with product liability cases.
Their firm has two attorneys who each have at least 26 years experience in handling workman's compensation cases. This experience results in them being able to get you the best possible compensation recovery.
Family Law
This firm RJR Law has many years of compassionate experience when dealing with family law. This type of practice is often an emotionally draining experience. Their lawyers are well versed in assisting families through divorce, separation, marriage contracts, adoption etc.
Reasons why you should contact Robert J Reeve's lawyers if you need assistance.
Approachable ,available and accountable
The owner of this law firm Robert J Reeves P.C. pledges personally that his attorneys will work hard for you and always be available when they are needed. This is backed up by his direct e mail address being available through their website as well as contact numbers of not only the firm's lawyers but a direct contact to him and his partners if needed. This includes after hours.
This type of personal involvement is followed through once an attorney has been appointed directly to your case.
Approach to dealing with cases
Their company has a policy for dealing with all new clients.
Firstly they will sit quietly and listen to your concerns and problem. It is important to them that they get an understanding of what is important to you the client.
Based on the initial discussion they will answers any questions and give you options and advice on how to proceed.
Lawyers are committed trial attorneys.
Whilst in many cases clients do not want to actually go to court if it can be helped .The lawyers at RJR will follow your wishes. Even though many cases do not actually make it to court it is important that your attorney is committed and not afraid to go to court for you if need be. The attorneys at RJR are fully committed and have many years of litigation experience in courts.
Representation available throughout North and Southern Carolina
The firm of Reeves Aiken and Hightower LLC is a collaboration firm which serves both states of Carolina. They have the advantage of maintaining separate practices for routine matters but also being able to join together and call on special expertise in more complicated cases. This is particularly the case when dealing with complex insurance cases which insurance companies defend aggressively. If you decide to not accept any offers their lawyers will advice and assist with taking a case to the courts.
The firm has offices in :
Fort Mill SC,Rock Hill SC,Charleston SC,and Columbia SC . In addition there is an office in Charlotte North Carolina which being on the border represents if necessary clients in both states. The owner Robert J  Reeves PC is licensed to practice in both states.
Experience
 This firm has a team of experienced attorneys .It is important to make sure that your appointed attorney has a strong record . It is common knowledge that Adjusters and Prosecutors "know "which attorneys will stick with their clients  and push for the strongest outcome . The firm of Robert J Reeves is a member of the Million Dollars Advocates Forum ,A member of The National Trial Lawyers  Top 100 , and has membership of the Super Lawyers Organization. These awards are earned and by invitation only . The many years of successful litigation and settlements are as a result of the tenacity and experience of their lawyers .
If you are in need of a lawyer in either Southern or North Carolina contact the firm of Robert J Reeves . Their full details are available on their website www.rjrlaw.com .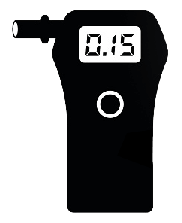 Get that Breathalyzer you've always wanted.
Sign up today for weekly tip and tricks for drinking smart. Get a full PDF Copy of our BAC Chart.