How To Successfully Fight A DWI In Texas
Fighting Against DUI Or DWI Charges With The Help Of A Lawyer
Know your rights and seek legal representation immediately

Make sure you are using a top rated attorney that focuses on DWI

Just because they say they are the "best dui lawyer" doesn't mean anything.  Ask for referrals that you can speak with.

Having a local attorney with a good track record is always a plus.  Just go to your favorite search engine and type in "DWI lawyer near me".  If they are spending money on their own marketing, it's a good bet that they know what they are doing.
Have you been charged with a DUI or a DWI? It is important that you do your research to figure out how you can dispute the charges. If you need more information on DWIs, read on to figure out how you can move forward.
If you are charged with driving under the influence, it is quite likely that the experience was not only embarrassing but also caused a lot of anxiety for you. In addition, you are now responsible for a large fine. You have to figure out if the charges will stay on your record, what it means for your career, and whether or not you will still be able to drive.
You must act quickly, because there is a certain period of time during which you can contest your charges. After that time has passed, your license will likely be suspended. Therefore, you must start working on your case right away.
We offer a free consultation in order to hear more about what happened. We'll look to see if any mistakes were made and may also provide you with additional information as it relates to your case. If there was an error during your arrest, you can fight against the charges and your license may not be taken away.
At this point, you may (rightfully) be worried about money. While you shouldn't forget about the fees associated with your case, it is important to remember that you have time to get your finances in order. As the case goes on, you'll get a better handle on what you owe and what you might owe going forward.
There are a lot of lawyers out there. Many have experience working on DUI cases. As you start to search for an attorney, you may quickly be overwhelmed. No matter who you ultimately go with, bear in mind that it will be a costly process.  Just make sure you receive legal representation as soon as possible. You have 14 days before your alr hearing, and you can not miss this.  Missing your alr hearing can be a smooth conviction for your case and can lead to immediate suspension of your license.  Know your rights, and seek legal representation immediately.
As you try to figure out what your first steps should be, it is important to realize that there are a lot of consequences associated with your charges. For example, some employers will immediately dismiss a worker that has been charged with a DUI. You may have trouble finding work going forward, you have to deal with probation fees, your car insurance is going to go up, and that's not even all of it. You should know what you are facing, which is why you need to start researching the issue right away.
If you are convicted of a DWI, it is likely that it will pop up on a background check. That can hurt you in a variety of ways; for example, a potential employer is going to see it when they are thinking of hiring you. This website offers a lot of information on DWI charges, which can help you throughout this trying time in your life. For example, you'll find information on what your first steps should be, the most common mistakes that people make, how you can avoid fines and where you can go on the Internet to get help. There are also other important topics as well, like what you can expect your charges to be, whether or not your license will be suspended, what the law says about driving under the influence charges and more.
Do you still have questions? Are you worried about trying to handle this all on your own? Keep in mind that a conviction has severe consequences, so you need to take this situation seriously. You may be facing a variety of expenses, like being ordered to attended a DUI/DWI course. You might also face other consequences, like not being able to drive the company car, not being able to vote (in the case of a felony), losing your rental home, dealing with higher health insurance, and being restricted from foreign travel. In addition, your credit rating could go down, and that impacts your ability to get a favorable car or home loan in the future.
This is a serious situation and it deserves your attention. If you intend to fight against your charges, you need to do your research. DWI lawyers in Houston TX can support you through this process as well.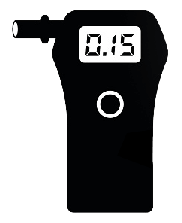 Get that Breathalyzer you've always wanted.
Sign up today for weekly tip and tricks for drinking smart. Get a full PDF Copy of our BAC Chart.