The DUI Eleven
When will people learn that alcohol, drugs and steering wheels don't go well together? For the past three months, eleven people have been caught and charged for driving under the influence. Below is the list of persons charged and the respective police departments that caught them:
Teenager Logan Karl Williams, aged 19, resident of Hummelstown; Williams was caught by Montoursville police on Interstate 180 last Sept. 13; He was also caught also charged for possession of marijuana and drug paraphernalia.
Kristie L. Maule, aged 43, resident of 711 Weaver St., also of Montoursville. Montoursville police caught her in the 1000 block of North Loyalsock Avenue last Nov. 12.
Jason C. Anthony, 43 of age, is a resident of 1546 Northway Road. He was caught by city police in the 300 block of Grove Street last Dec. 11.
Jye Michael Smith, 29 years of age, resident of 313 Broad St., Montoursville. Montoursville city police caught him in the 600 block of Washington Boulevard last Dec. 17.
Montoursville; state police caught Donald Edwin Kinney, aged 25, resident of 5741 Route 87, at the 1300 block of Country Club Drive in Loyalsock Township last Dec. 20.
Last January 7, Dennis Eugene Harris III, aged 34 from 159 Cement Drive, Jersey Shore was caught by state police after his vehicle crashed at Route 44 and Vandyke Road in Limestone Township last Jan. 7.
Cassondra L. Mercury, aged 33, resident of 110 Reynolds Road, Linden; was caught by Tiadaghton Valley Regional police on Route 220 in Piatt Township last Jan. 20; A charge of speeding aggravates her case.
On a third DUI arrest is Mr. Jeremy James Null, 39, from Mifflinburg was caught by state police at East Third Street and Russell Avenue last Jan. 21.
Arrested last February 4 is Daniel J. Diehl, 57, aged 28 from Ikes Drive, Montgomery. He was caught by Montgomery police at Route 15 and Alexander Drive in Brady Township.
Brian Todd Shuey, aged 47, Pleasant Gap resident was arrested by state police in the 3300 block of Lycoming Creek Road last Feb. 6. He was also charged with reckless driving.
And lastly Mr. Joshua Gerald Hicks, aged 27, of 214 Hemlock Hill Road, Montgomery. Montgomery police caught him at Second and Montgomery streets last Feb. 22. Like Null, He is also on his third DUI arrest. He is also charged with careless driving.
http://www.sungazette.com/news/police-fire-court/2017/03/11-people-face-dui-related-charges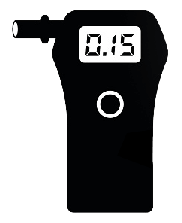 Get that Breathalyzer you've always wanted.
Sign up today for weekly tip and tricks for drinking smart. Get a full PDF Copy of our BAC Chart.