The Best Portable Breathalyzers on the Market
Before we get started I'm sure the question is there. Why, why do I need this list? Why do my friends need portable breathalyzers. I'm not a police officer, bouncer or alcoholic, or maybe you are, who knows, maybe all three. The truth is there are many good reasons to have one. Me and my college friends bought one just for some fun. They are powerful, useful tools to not only ensure your, and your friends safety, but to also learn more about how alcohol, and the amount of it, affects you. Out of these BAC
tools these four are the top of the line, best.
BACtrack Mobile
This is, simply put, My favorite. This breathalyzer hooks either to your IOS, or Android devices through Bluetooth. It features police grade sensor technology and an innovated zero line feature that gives you an estimate based on your alcohol level of when you will be sober. Picture knowing exactly how long you really need to wait before driving. Brilliant really, this one is worth getting, and would most likely be appreciated by the more App savvy generation of today
BACtrack S80
Designed solely with your safety in mind, this personal breathalyzer easily meets standards set by police, and medical personality. Featuring convenient one button operation this breathalyzer is simple to use and accurate results. It may not be the flashiest but it is definitely one of the more reliable, with guaranteed accuracy, and simplicity of command. More than qualified to keep track of your alcohol level to avoid alcohol poisoning.
BACtrack Element
This breathalyzer is designed with simplicity in mind. It is highly portable and highly accurate. It only takes few seconds to test for BAC and it uses the same advanced diagnostic system that BacTrack is famous for. It's the most economical professional model which makes it the best priced high tech breathalyzer money can buy.
BACtrack Vio
This breathalyzer, like the Mobile pro, hooks up to your smart phone. Featuring the same Zero Line technology it gives you an accurate estimate of when you will be sober. Sized big enough to easily fit into a purse pocket, or on a key chain, it offers safe reliable results on the go. My favorite thing? The ability built to call for an uber from within the app. Making it a hassle-free way to be safe, and enjoy your night out with your friends.
Safety shouldn't be a burden. It defiantly shouldn't always be the hard choice. These products make it where it's easy, and affordable to be safe and at the same time still enjoy a hassle-free night. Whenever we involve alcohol it's good to be prepared and plan. Plus if it's easy, it makes it more likely for us to do that. I hope this helps you come to a decision that you will be glad for, for years to come.
Summary
Reviewer
Review Date
Reviewed Item
BacTrack S80 Professional Breathalyzer
Author Rating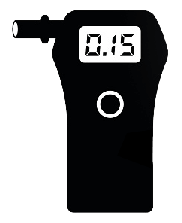 Get that Breathalyzer you've always wanted.
Sign up today for weekly tip and tricks for drinking smart. Get a full PDF Copy of our BAC Chart.