What Is Jail Like?
If you've ever been tempted to test legal limits or just flat out break the law—like when you know you're too buzzed to drive but really want to get home—don't do it. In addition to the obvious risk of hurting yourself or other innocent people, you could end up in jail, a place you absolutely do not want to be.
Case in point: an express bus driver who thought he could get away with faking his logbooks learned the hard way that jail is a real possibility for breaking the law. It doesn't matter if you consider your activities a minor bending of the rules or simply small actions that won't hurt anyone. They're illegal, and chances are they'll cause someone harm and get you arrested.
One Bad Decision Can Ruin Your Life
Wisla Express bus company manager Dariusz Szteborowski received 14 months in jail for lying on his logbooks. His false reporting was apparently an effort to save his company money, as he may not have wanted to service his shuttle vans as often as required by law, or give drivers the break they're legally required to have after a certain number of hours. After investigation, his poor decision to alter the books in his favor landed him with $75,000 in fines and an extended stay in prison. Keep in mind that a poor choice has real-life consequences, and they are not very pleasant if you break the law.
This is What Jail is Like
The truth about jail is shocking and terrifying to most people. Moreover, once you're in jail, you're likely going to be around people who have committed much worse offenses than you have. They don't separate you out just because you've done something that you consider small or harmless. In most cases, a felony is a felony, and you'll be housed right alongside violent offenders.
In jail, looking at the wrong person the wrong way can get you beat up or worse. You can be harmed for doing nothing. Additionally, standard procedures will have you showering and using the restroom without very much privacy. You will be given a limited amount of food, which may be hardly edible and which can be stolen from you at any time by other inmates. You will be subject to search, seizure, and any other regulations deemed necessary at any time by any officer—you are in the custody of the state, and hence subject to their total command. These are just a few of the highlights of landing yourself in jail. You don't even want to imagine some of the even more horrific aspects of life behind bars.
The next time you're tempted to skirt the law, remember what it's like in jail. Perhaps this will deter you from making the wrong decision. You may feel inconvenienced by having to follow the rules, but following the rules could save your life in more ways than one.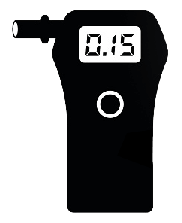 Get that Breathalyzer you've always wanted.
Sign up today for weekly tip and tricks for drinking smart. Get a full PDF Copy of our BAC Chart.