What To Do After A DUI
It's not going to be easy if you find yourself arrested for a DUI. There will be some lengthy processes to go through and possibly many harsh consequences to deal with. While you alone may have made the poor decision to drive drunk, you don't have to face the DUI aftermath by yourself. There is help available to guide you in what to do after a DUI.
Get Medical Help
If you have been in an accident as a result of driving while intoxicated, and you suspect injury of yourself or others involved, you should seek medical help immediately. Police officers will likely help call for emergency assistance, but if they don't, you must make sure they know you need an ambulance if this is the case.
Do Not Make Any Statements
Avoid making any statements to police officers. Do not admit fault, and do not speak with other individuals involved in a crash, other than to obtain pertinent information and make sure that everyone is safe.
Obtain a Police Accident Report
Next, it's important to get a police report from officers who are on the scene of your DUI arrest. Your attorney will want to view this report to potentially use it in any negotiations on your behalf, which may be negotiations with insurance companies and possible parties in a lawsuit.
Record Information and Take Photos
You will want to document everything you can regarding your DUI, including relevant information about other people involved. Get drivers' license numbers, insurance details, license plate information, car makes, and police officers' names and jurisdictions.
Call an Experienced Attorney
If arrested for a DUI, call an experienced attorney immediately. You will need to have representation as you deal with the fallout of drunk driving, which could include DMV and court processes and proceedings. Having a good lawyer is especially essential if you have been in a car accident while driving drunk. The law automatically finds drunk drivers negligent, so having the best defense you can get is imperative.
The Harsh Reality of a DUI
The United States Department of Transportation reports that people get killed in alcohol-related highway accidents every 2 hours. There are immense consequences for drunk driving, which include property damage, injury, criminal charges and even death. Driving while intoxicated can lead drivers to swerve, speed, or fall asleep behind the wheel. Serious damage can ensue, which is why the laws are so strict on driving drunk.
In Pennsylvania, for instance, drivers are considered drunk when their blood alcohol content is .08% or higher. If drivers' blood alcohol content is .10% or more, they are subject to a driver's license suspension for a period of time to be determined by the situation. Penalties for DUI first-time offenders include 6 months' probation, an alcohol highway safety school requirement, a $300 fine, and possible community service of up to 150 hours. Three DUIs result in a driver's license revocation for 5 years.
Rather than have to sort through all of the penalties and possibilities for a life of ruin, drivers should think before getting behind the wheel. In addition, passengers should check that their driver is not drunk before driving. That way, hopefully you will never have to figure out what to do after a DUI.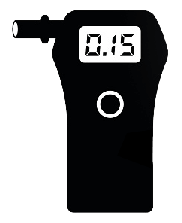 Get that Breathalyzer you've always wanted.
Sign up today for weekly tip and tricks for drinking smart. Get a full PDF Copy of our BAC Chart.